Are you looking for an excellent everyday gaming laptop under $1200? I recently had the experience of buying an ultrabook for that price, and I can say with conviction that laptop prices have increased exponentially.
Don't worry, though, because today, I have compiled a list of the very best $1200 gaming laptops you can buy.
It doesn't stop there – along with the laptops, I have also included a comprehensive buyer's guide, which will help you pick the best laptop for your needs, leading to better, smarter decision-making.
Excited to see what I have in store for you today. Then let's begin.
In a Hurry? These are the Best Gaming Laptops Under $1200
Best Overall laptop for $1200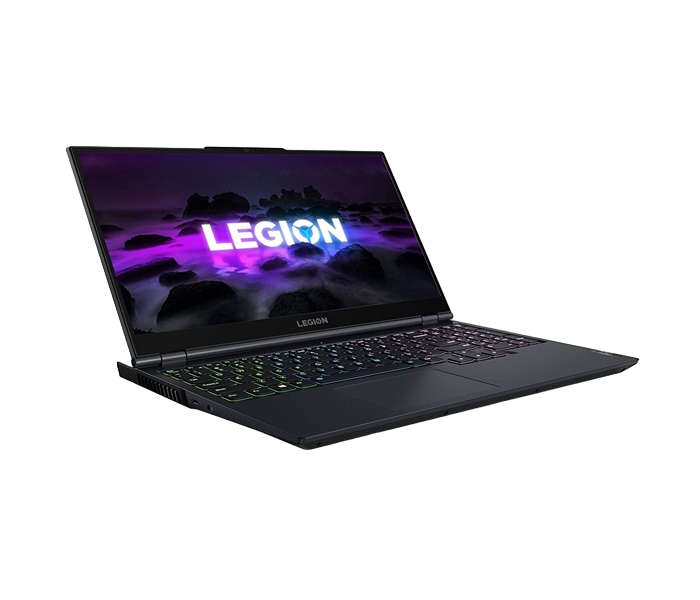 Excellent gaming performance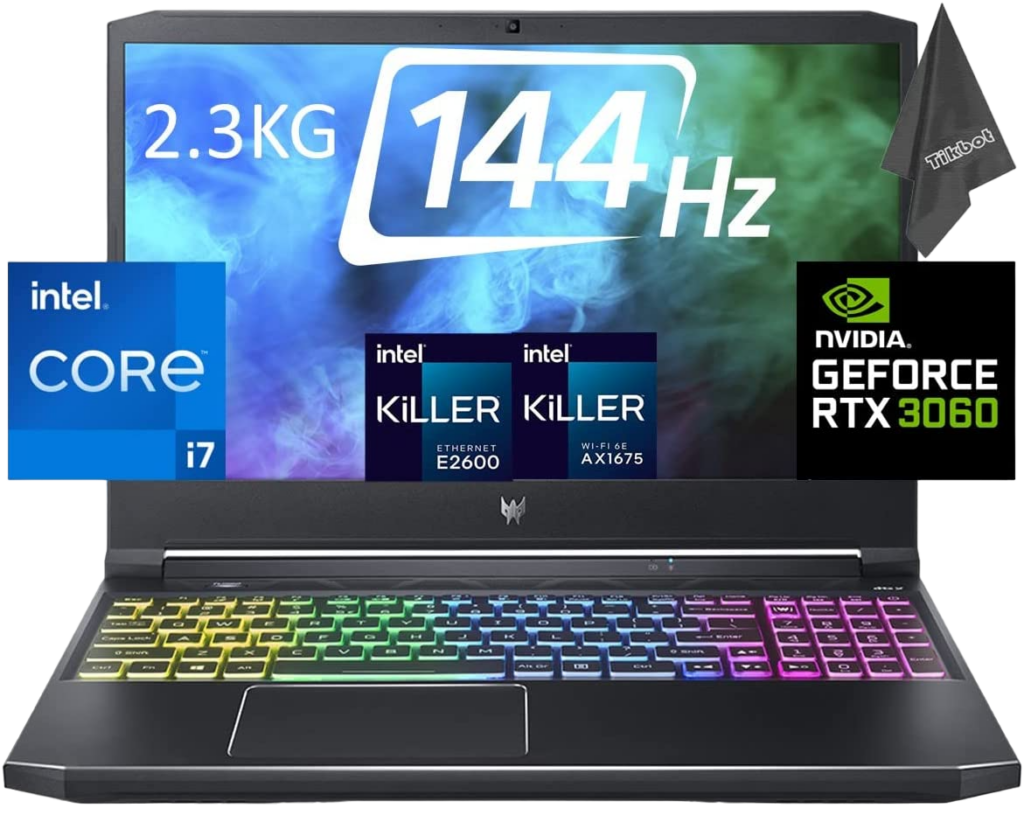 2. Acer Predator Helios 300
OUR TOP CHOICE – 300HZ Gaming Laptop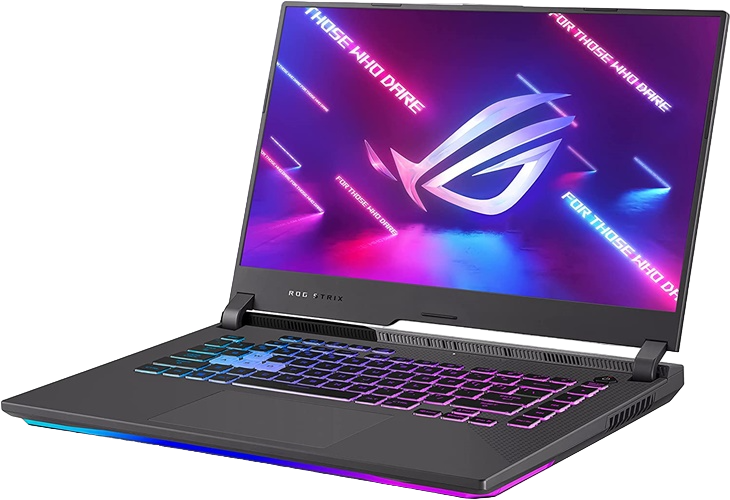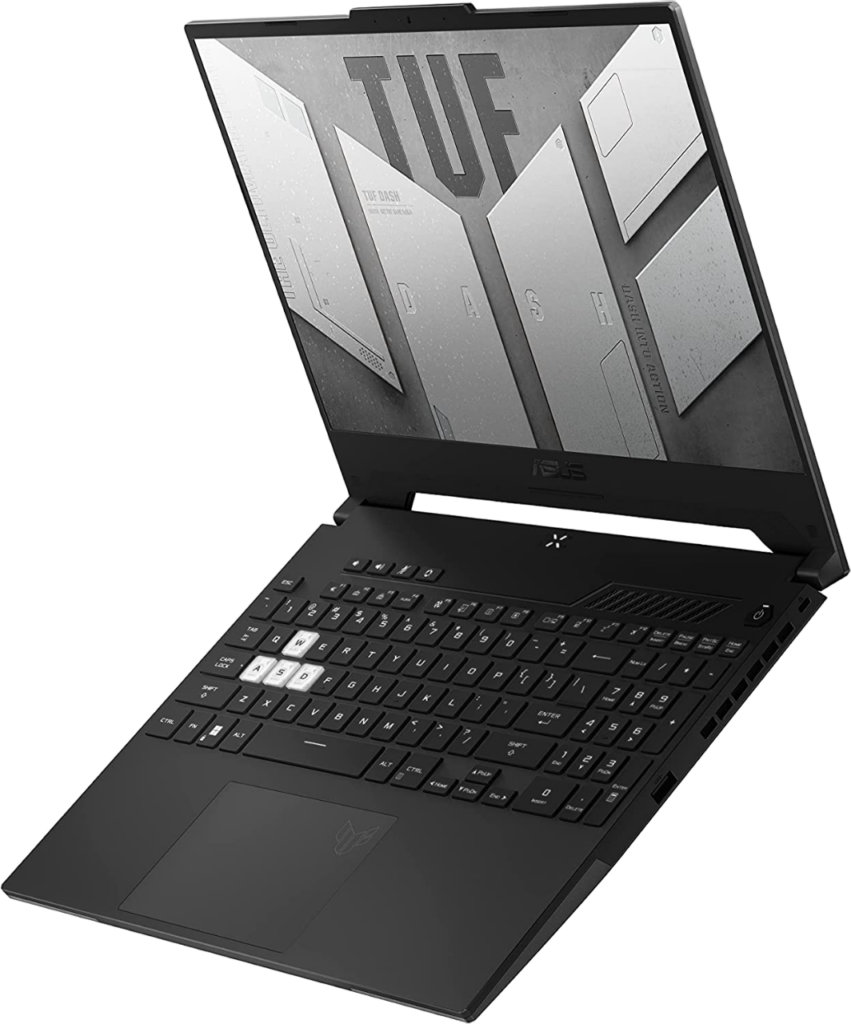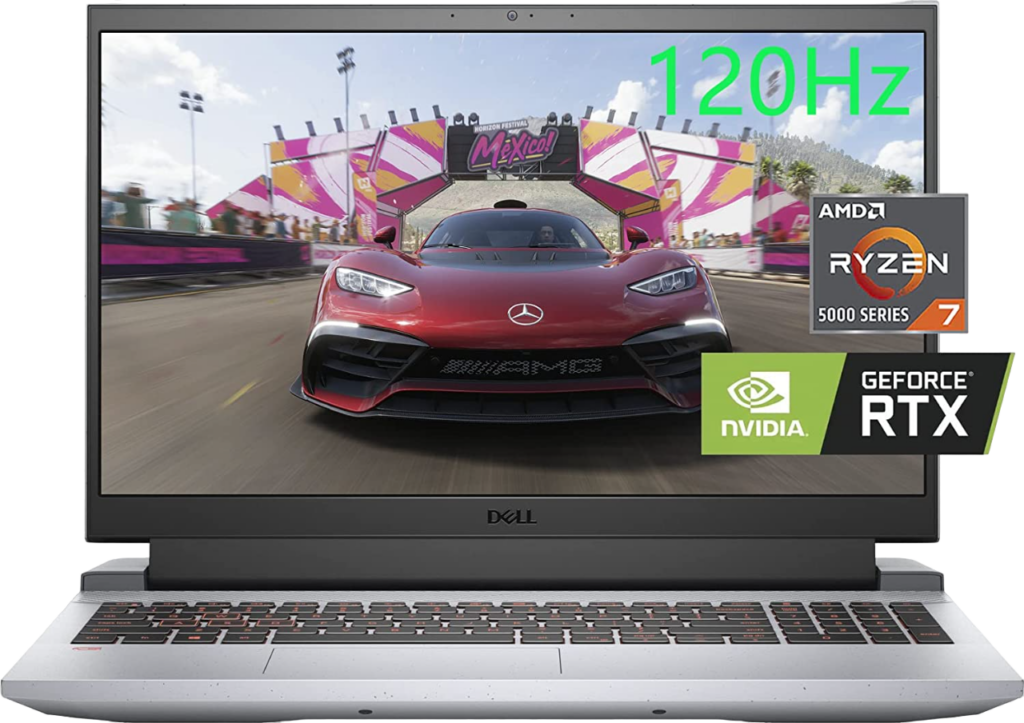 Reviewing the Best Gaming Laptop under $1200
Before I proceed further, I want to tell you that this list is in no particular order. All laptops have their unique plus points and offer different specialities to gamers.
Each laptop goes through a stringent testing process before being featured on the list. We thoroughly test the laptop and assign it a score. Only the top ranked laptops were picked for this roundup.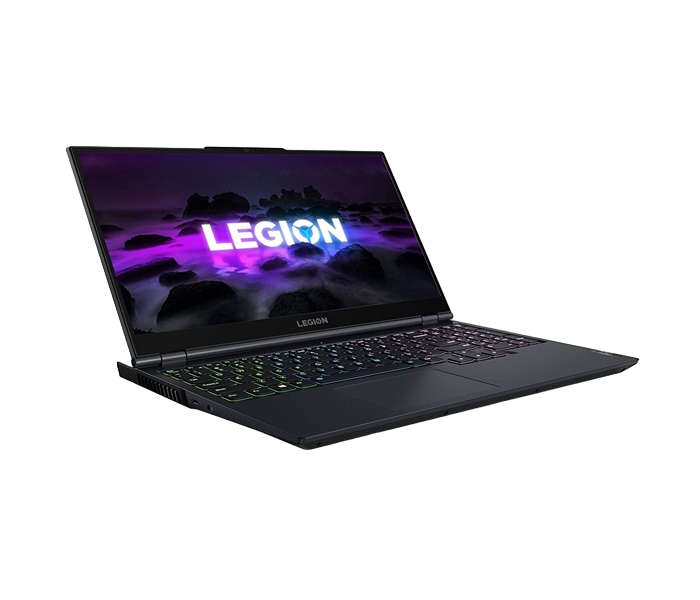 Shop on Amazon
1. Lenovo Legion 5 – Best Gaming laptop under 1200
PROS
CONS
The success of Lenovo can be attributed to the Legion 5 model. It is the company's most selling gaming laptop because of its exceptional performance and fantastic build quality. The new generation Ryzen CPU featured here is shaping to be a great buy because it provides an amazing feature set and performance at a compelling price hence making the Lenovo Legion 5 a very attractive option.
Design and Build Quality
Lenovo has embraced the minimalist design. As a result the legion 5 has an understated and industrial design with clean body lines and minimal branding.
Minimal branding does not take away the fact that this is a legion gaming laptop. The legion name is proudly spelled on the corner of the lid in bold font signifying that this laptop is not just a regular old boring machine.
When it comes to the build quality Lenovo rarely disappoints and this Legion 5 also continues the tradition of solidly built laptops from the brand. The hinge especially feels robust when opening and closing the laptop and the mechanism is perfectly calibrated making the hinge movement neither too tight nor too loose.
Keyboard, Trackpad, and Speakers
Before we get onto the keyboard feel, can we just take a moment and appreciate Lenovo for giving a full number pad on a 15 inch laptop. The number pad may not be everyone's cup of tea, but it certainly does come in handy for gaming.
As for the keyboard feel, it has an old-school vibe about it. Not only with the layout but also with the keypress. The keys have decent travel and tactility hence making each keypress satisfying and comfortable.
The caveat of adding the number is you get a decentralized trackpad. This will take some time to get used to but when you do the trackpad is very nice. It has a smooth surface with precise tracking.
Most gaming laptops have pretty meh speakers and unfortunately, this one is no different. These speakers can be usable and get loud. However, don't expect too much bass to hit your ears.
Display, Battery Life and I/O
The Lenovo legion 5 has a 1080p 120Hz refresh rate display. If that was not impressive enough the panel also has a best-in-class response time of 3ms which is sure to make esports gamers rejoice.
Gaming laptops are also everyday laptops used for watching videos and consuming content, so the general picture quality of the panel also needs to be good. We are happy to report that Lenovo has knocked it out the park here as well. This laptop has 100% sRGB coverage and the IPS panel also provides rich colors with deep contrast.
Surely the negative of having this panel is worse battery life, right? Well not really as this laptop easily provides 7-8-hour battery backup on light use which is watching YouTube and surfing the web.
Lenovo Legion 5 makes for a great everyday laptop as the battery is enough to get you through a workday or a school session. Then when home you can hook the laptop to brick power and enjoy gaming. The I/O will also cause no trouble in this regard as all the required ports are present here except the thunderbolt 4.
Gaming Performance and Thermals
The gaming performance of the Lenovo Legion 5 to no one's surprise is great. This laptop has a powerful combination of a Ryzen 5800H and Nvidia RTX 3050 Ti. The Nvidia RTX 3050 Ti is a great performer.
The Ryzen 5600H on the other hand is a beast of its own. This 8 core 16 thread CPU released recently by AMD is making headlines for its incredible performance. It is currently one of the best high-end processors you can get in a gaming laptop.
Lenovo has also come up with a solid cooling solution for the Legion 5. This laptop is the fastest in its class and tops every chart against laptops having the same CPU and GPU configuration.
This shows in its performance – during games, I was able to get the following average FPS.
FPS in Games
69 FPS in Red Dead Redemption
81 FPS in Cod WarZone
89 FPS in GTA 5
107 FPS in Forza Horizon 5
162 FPS in Valorant
The CPU and the GPU are paired with 16GB Ram for flawlessly multitasking. The SSD on the other hand is a bit smaller coming in at 512GB but at least you do get a vacant M2 slot for additional storage.
Overall, there is little to no compromise in terms of performance here and Lenovo has extracted every drop they could to make their laptop the fastest.
Conclusion:
The Lenovo legion 5 is a terrific deal for the price you are paying. The overall package you are getting here surpasses most laptops in this price range. This laptop has everything you would ask for. It is good-looking, has decent performance, a Ryzen 5800H at the helm, and a cooling system that is over-engineered. Hence we recommend this machine for anyone looking for the best gaming laptop under $1200.
Excellent gaming performance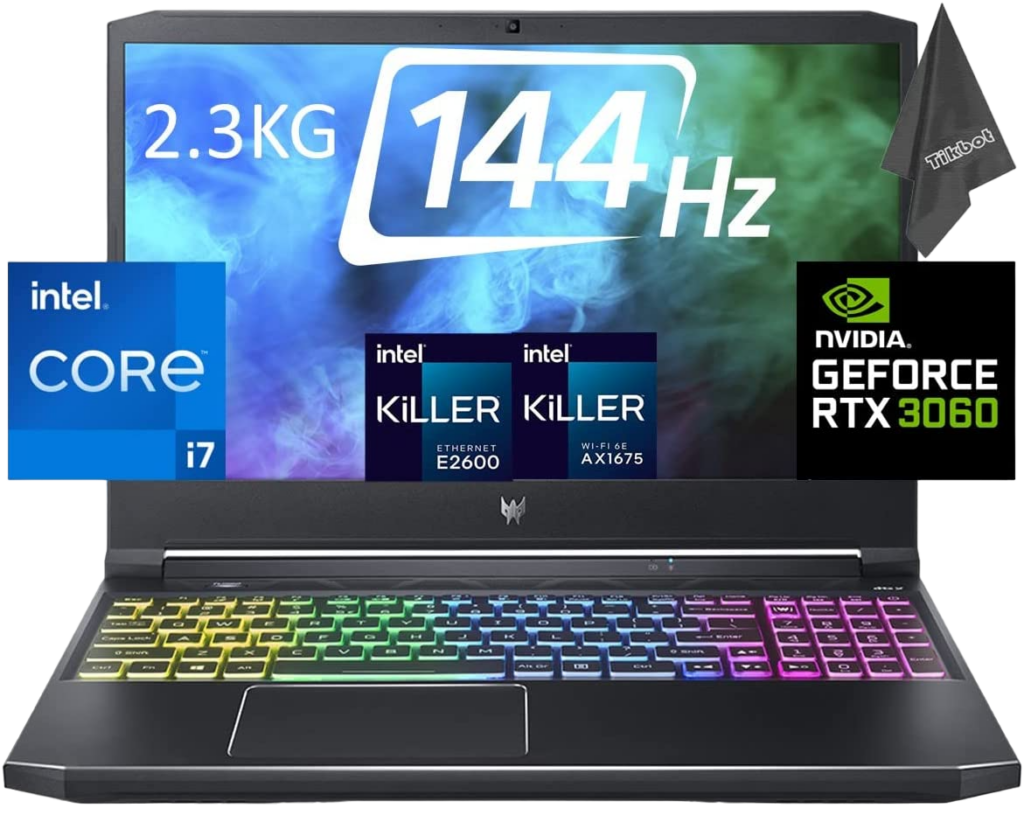 Shop on Amazon
2. Acer Predator Helios 300 – Good build quality
PROS
CONS
The Predator Helios 300 laptop is the best Acer has to offer so a lot is riding on the machine for the brand. Acer has always pulled out its A-game with this laptop. It is an excellent machine that can play any game you throw at. There are also no corners cut in the quality of the laptop, making it a great offering to consider.
Design and Build Quality
The design of the Acer Predator Helios 300 is rather mature and laid back for such a high-caliber gaming laptop. Acer has played very safely with the design by providing the laptop a minimalist chassis.
There is not much going on with the chassis of this laptop and it looks and feels purpose-built. The laptop also does not feature any obnoxious and tacky branding but rather a clean-looking predator logo fills the lid. This logo has a blue outline around the edges, pretty similar to the other Acer mentioned on this list.
There is not much else to talk about the design of the laptop and maybe partly the reason behind the lackluster reception of this laptop in the mainstream audience is due to its rather bland design.
Anyways moving on to the build quality and right of the bat this laptop gives a good impression. The chassis is well put together and there were minimal gaps and rough edges around the laptop.
The laptop is also very solid and does not flex or wobble around when pressure is applied to the deck or the screen. Overall, a well-built laptop with little to nothing to complain about.
Keyboard, Trackpad, and Speakers
Acer has hit a home run with the keyboard. It is one of the finest keyboards to type on as it features both a satisfying travel distance and a tractile press. Despite being a full-size keyboard on a 15-inch chassis it does not feel cramped.
Acer has done a good job with the positioning and the spacing of the keys. As expected from a laptop in this price range – the keyboard features four zone RGB lighting that is controlled via the Predator Sense software.
The trackpad I feel like is offset to the left a little more than usual but no complaints with the usage. It is a click anywhere trackpad and features a smooth glass surface. It uses Windows precision drivers and tracking is very accurate. Using gestures to navigate through the user interface works great as well.
Coming to the speakers and them you are getting the usual Acer treatment here. That translates to loud but impact-less speakers with lacking bass response. The detail and clarity of these speakers are also not very good either. Using external headphones for gaming is a more superior choice than these included speakers.
Display, Battery Life and I/O
The Acer Predator Helios 300 gets a 1080p 144Hz refresh rate display. We have also seen similar numbers on most of the other gaming laptops in this price range as well so nothing special to report here.
In terms of the picture quality, the display falls in the 'look once and forget about it category' as the panel here is nothing special. It is pleasant to look at but so are most of its competitors. For a laptop to stand out – it needs to have an amazing panel. Good is no longer the benchmark in the class.
This laptop packs some pretty beefy hardware yet still Acer has decided to skimp on the battery. This laptop only gets a 58W battery which is not fitting for a laptop of this caliber. Hence, we can only expect a battery backup of 4 hours on light usage. Anything more is just stretching the battery too much.
Another area where this laptop missed the mark is connectivity. Acer has gone through such a hassle to incorporate all the ports on a thin and light chassis and the result on paper looks pretty good. Yet despite having all the other ports this laptop lacks the most important one being the thunderbolt port. Manufacturers need to understand that a thunderbolt port is becoming the need of the time.
If you can live without the thunderbolt port the rest of the I/O is pretty good. On the right side, we have a Kensington lock, ethernet jack, 2x USB 3.2 ports, and a combo 3.5mm Audio/Mic jack. The ports on the left side include the likes of Mini DisplayPort which supports Nvidia G-SYNC, HDMI, USB 3.2, and a USB-C 3.2 Gen 2.
Gaming Performance and Thermals
The specs of the Acer predator Helios 300 are very competitive to what the other brands are offering in this price range. Therefore, the gaming performance is what you would expect from a good sub $1200 gaming laptop.
Given the fast core clock coupled with the sheer amount of processing capability provided by 8 cores, you can pretty much run any game on this laptop without maxing out the CPU.
This fast and capable processor is paired with the Nvidia RTX 3060 graphics card, which is the king of mid-range gaming machines. This GPU can easily play any game you throw at it. Needless to say, gaming on this laptop was great and it played all the games I threw at it on the following FPS.
FPS in Games
68 FPS in Red Dead Redemption
78 FPS in Cod WarZone
83 FPS in GTA 5
115 FPS in Forza Horizon 5
163 FPS in Valorant
Gaming performance is just half of the equation and many of us gamers use laptops for productivity tasks as well.
For that purpose, this laptop includes 16GB RAM which is running at 2933MHz. The storage is also plentiful with a capacity of 1TB. The storage is in the form of a 512GB SSD hence it is fast as well on top of being ample. This laptop, therefore, fulfills the purpose of being a beastly gaming laptop as well as a fast productivity machine.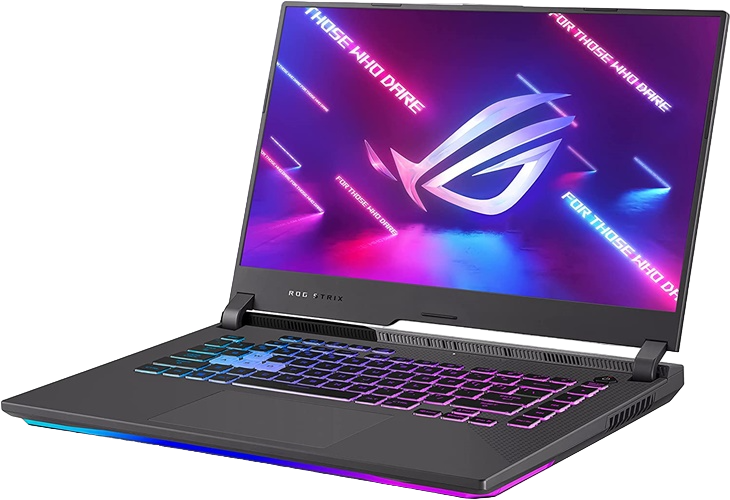 Shop on Amazon
3. ASUS ROG Strix G15 – Best 300HZ gaming laptop under 1200
PROS
CONS
The Strix line series from Asus compromises the top laptops that the brand has to offer. The ASUS ROG Strix G15 is an excellent all-around laptop that provides gamers with sleek aesthetics and compelling specifications for a very reasonable price. The selling point of this laptop is its fast 300Hz panel, which makes competitive gaming a treat.
Design and Build Quality
The ASUS ROG Strix G15 has an electro-punk theme going on with its aesthetics. This theme of this laptop is characterized by bold styling and flared arches that make it look aggressive and stylish.
Throughout the laptop's body, you will see RGB lighting scattered all over the place. Be it the laptop's lid, keyboard deck, or even along the sides of the chassis.
The gray color scheme ties in nicely with the aggressive look. The ASUS ROG Strix G15 will scream attention and I know many gamers want that from their gaming laptop.

I don't know how Asus has managed to do it at such a low price – the build quality of this laptop is fantastic. It is made primarily out of metal which gives the chassis a very solid and well-defined characteristic which is often lacking in other gaming laptops.
Asus has also executed the hinge mechanism of the laptop with great finesse making the opening and closing of the laptop feel robust. Overall, I would rate the build quality of the ASUS ROG Strix G15 very highly and would even go on to say that this may be the best-built laptop on this list.
Keyboard, Trackpad, and Speakers
The keyboard of this laptop is a joy to type on. Not only does it have a spacious and sensible layout but the keys themselves feel very satisfying. There is good tactility and crispness in each key press which allows users to type on the keyboard without experiencing fatigue or soreness of the fingers.
The trackpad also follows in the vein of the keyboard. It is accurate and precise finger recognition, and the surface is also quite smooth to use. The gestures also work as expected.
Having dedicated buttons for the clicks is also favorable for gaming. The only minor gripe I have with the trackpad is that it is quite small and narrow. A little more surface would have been more liberating.
Unfortunately, unlike the keyboard and the trackpad, I don't have any good things to say about the speakers. The speakers of the ASUS ROG Strix G15 are tiny and lack any punch. The only saving grace of this notebook is that the speakers can get loud when required.
Screen, Battery Life, and I/O
Given the price tag of this laptop, I was expecting Asus to skimp on a good screen but to my surprise, the screen of this laptop is quite amazing. The panel even comes with a class leading 300Hz refresh rate.
The unique aspect however is that the screen of this laptop has the full coverage of the sRGB color gamut coming in at a 100% sRGB rating. On top of that, the brightness and contrast of this panel are also very good making for a splendid movie watching as well gaming experience. Everything on the screen pops which adds to the engagement level of viewing the screen.
Despite having a bright display, the battery life of this laptop is very good. It easily lasts for a day when using it for light tasks like browsing, watching media, compiling presentations for school, or researching certain topics.
Although for gaming you most probably will have this laptop connected to wall power but if the situation arises when gaming on charge is required then expect around 2 hours of battery backup from this laptop.
On the connectivity front, this laptop is equipped with a very versatile I/O. The ports here include 3x USB 3.0 Type-A, USB-C, 3.5mm combo audio/mic jack, ethernet jack, HDMI, and an SD card slot.
Gaming Performance and Thermals
The ASUS ROG Strix G15 has top-notch specs, which results in a very powerful gaming performance. At the heart of the laptop is the Ryzen 4800 – 8 core 16 thread CPU from AMD. This CPU is a beast performer and can tear through any game you throw at it.
This powerful processor is paired with an Nvidia RTX 2060 graphics card. This mid-range graphics card from Nvidia is quite a capable little monster. You would be surprised by the amount of performance it can deliver in any given game.
The combination of the Ryzen 4800H and Nvidia RTX 3050 Ti results in excellent framerate, which when testing is as follows in some games.
FPS in Games
66 FPS in Red Dead Redemption
78 FPS in Cod WarZone
92 FPS in GTA 5
104 FPS in Forza Horizon 5
160 FPS in Valorant
As you can observe from the benchmark, this laptop can easily play games at very high FPS. Hence the 300 Hz display of this laptop will come in very handy. Even when playing demanding games, the FPS stays above 60. Hence showing how good of a gaming laptop the ASUS ROG Strix G15 is.
As for the other specifications, it is pretty much the typical affair going on here. This laptop includes 16GB dual-channel RAM. It also features a 1TB NVME SSD for storage which is fast and plentiful for all your needs.
The ASUS ROG Strix G15 is a more premium gaming laptop than the price would suggest. If you value the premium experience and want a gaming laptop that can play all the latest games without a hitch, then the ASUS ROG Strix G15 is the laptop you need.
Shop on Amazon
4. MSI GF65 – 3060 gaming laptop under $1200
PROS
CONS
The MSI GF65 laptop by MSI depicts the brand's commitment to making minimalist laptops. This laptop is a little different from the pack as rather than glorifying the aesthetic and design part, this laptop focuses more on the performance aspect. Therefore, this laptop comes in as the performance king at $1100.
Design and Build Quality
The design of the laptop is exactly like the name would suggest, stealthy and clean. What we are getting here is a monochromatic matte black chassis with a brushed finish. The red MSI logo is also blended into the chassis making for a very uniform look of the chassis.
There is also no unnecessary frill on the outside and the chassis of the laptop is also purposeful. Another thing that struck me about this laptop was how slim and lightweight the chassis felt. Coming in at just 0.85 inches thin and weighing in under 3.8lbs this laptop is a portable powerhouse. Gamers that have the go lifestyle will come to appreciate the portability offered by this laptop.
For that purpose, we found the build quality of the laptop to be a little lackluster. The immediate thing that popped about was the flex in the keyboard deck that can be triggered by pressing hard on the keyboard deck.
It does not bother when gaming but might be concerning for the long-term use of the laptop. The fit and finish of the laptop however were good and there were no noteworthy rough edges to the chassis.
Keyboard, Trackpad, and Speakers
MSI makes good keyboards on their laptops and this one is no exception. The key feel is typical MSI, and the keyboard is very comfortable to type on or mash on when gaming. Unfortunately, there is no RGB lighting to be had here but rather you are stuck with a red led backlight.
The trackpad of the MSI GF65 is on the smaller side but it performs well. The trackpad precisely registers your finger action, and the surface is also smooth to use. We only wish that the trackpad was a little bigger and roomier.
The internal speakers of the laptop, although being bottom-firing, provide a lot of sound volume but lack depth. They fall flat when it comes to producing rich bass and detail.
I may sound like a broken record here but use headphones when gaming because the internal speakers of most gaming laptops are tiny and lack the fine touch of detail.
Display, Battery Life and I/O
For a laptop meant for portable on-the-go gaming, the display has to be bright and crisp. Unfortunately, MSI has faltered in this regard and the panel of this laptop has a maximum brightness that is lower than 300 nits. This makes the screen not legible in bright sunlight and impacts the daily carry mantra MSI is going for.
Apart from that, this laptop is nice for gaming. The panel used here is a 1080p one and supports a refresh rate of 144hz. The color accuracy of the screen is also decent though nothing to write home about.
Carrying the bulk of the laptop is a small battery. As expected, the battery backup is not great coming in at only 5 hours. That too when you are using the laptop for browsing and doing other light tasks.
As for the connectivity, we have a versatile I/O here and it includes HDMI, 2x USB-C ports, 2x USB-A ports, and a combo Audio/Mic jack, ethernet jack, and a Kensington lock.
It was an odd decision to not include thunderbolt connectivity given that we already have not one but two USB-C ports.
This can be a deal-breaker for some gamers as thunderbolt is becoming increasingly relevant day by day and we have seen its implementation in many things as of now.
Gaming Performance and Thermals
In this department, MSI has thrown pretty good components on this laptop. It has the 10th generation Intel I7-10750GH processor with the RTX 3060 graphics card. This on paper seems pretty impressive given the price as well as the slim chassis of the machine.
On paper, performance does not always translate to real-world applications and unfortunately, this is exactly the case with the MSI GF65. Due to the slim chassis, a lot of potential performance is left untapped on the table.
This is due to the limited cooling of the laptop. Due to the chassis being just 0.85 inches little room is available to implement a sophisticated cooling system. This is the biggest downfall of this laptop as without proper cooling the processor and the graphics card cannot run at their maximum.
The latest generation Intel processor and the Nvidia RTX graphic cards are both notorious for being heat magnets. To keep these components within the thermal limit MSI had to undervolt both the processor and the graphics card, hence limiting their potential output.
So are getting here only 70-80% of the performance you would get from these components when they work at their maximum. Nonetheless, the performance here is still plentiful for 1080p gaming and you will face no trouble in running the latest demanding games like Red Dead Redemption, COD WarZone, and others on this laptop. During testing, I was able to get the following FPS on this laptop.
FPS in Games
68 FPS in Red Dead Redemption
78 FPS in Cod WarZone
83 FPS in GTA 5 115 FPS in Forza Horizon 5
163 FPS in Valorant
Lastly, let's wrap this section up with the RAM and storage. The MSI GF65 has 16GB RAM installed in a dual-channel configuration. Dual-channel configuration provides a slight increase in the performance of the system due to less latency. The storage needs are fulfilled by a single 512GB SSD. In terms of speed, the SSD included on this laptop falls in the middle of the pack.
Conclusion:
The MSI GF65 is a great machine for its intended audience. It is a gaming laptop that is more focused on the everyday use aspect of a gamer. This laptop is not for a gamer whose laptop remains on the desk for most of its life. If you respect the intended use of the laptop and are willing to sacrifice some of the performance, then you cannot go wrong with this machine.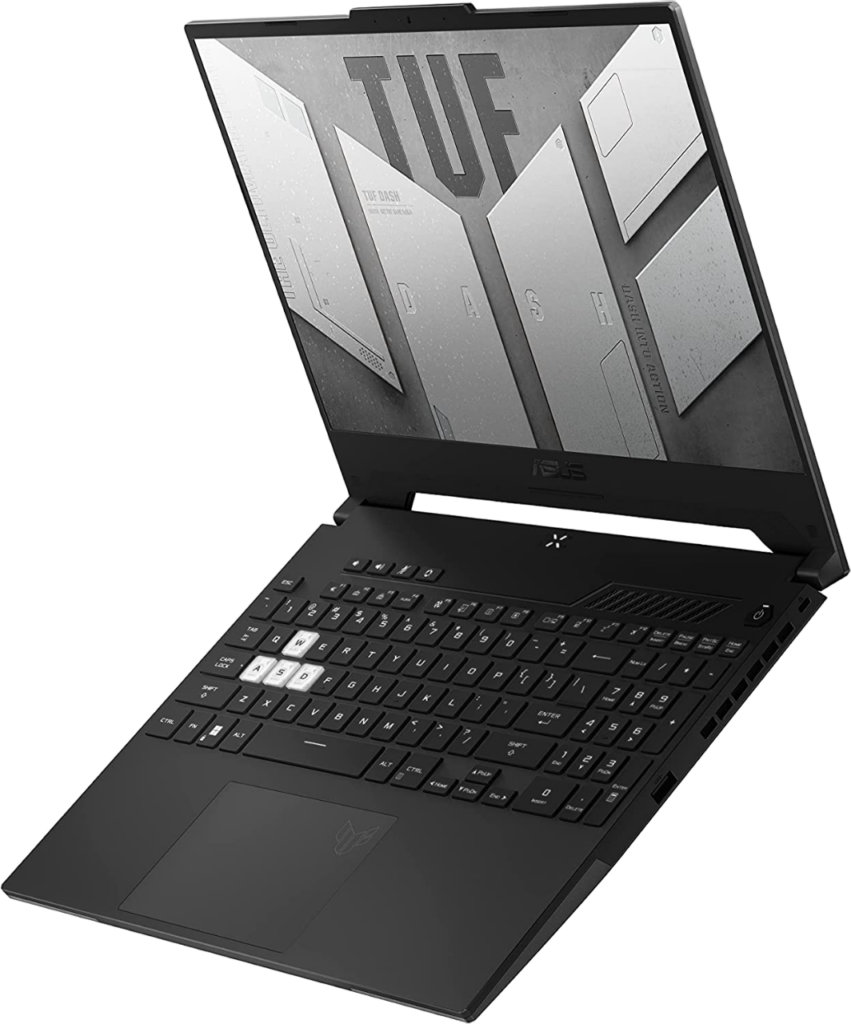 Shop on Amazon
5. Asus TUF Dash – Best battery timing gaming laptop
PROS
CONS
The Asus Tuf Dash 15 is a new entry into the slim and lightweight gaming laptops from Asus. Despite having a slim design, this laptop is plenty powerful. It comes with the best specs that you would expect in a $1200 gaming laptop, which makes gaming quite pleasurable. Apart from its rare overheating issue, there is not a whole lot wrong with this laptop, hence making it a great option for gamers.
Design and Build Quality
Minimal – is what I would use to describe the design and look of this laptop. The simple and toned down chassis of this laptop is not for everyone, but works well in most situations. You can take this laptop to a class or the library without getting prolific stares.
A simple TUF branding sits on the left side of the lid. Besides this, the rest of the chassis is plain and simple with a matte black finish. The matte black finish has a soft texture which feels very good in the hand. The lid of the laptop is made from metal while the body is plastic.
Although this laptop is made from plastic, it feels quite solid and robust. It does not bend, nor does it exhibit flex or wobble. The hinge is also well-executed, and the mechanism is firm and smooth. The Asus Tuf Dash F15 is as good as a plastic-built laptop gets.
Keyboard, Trackpad, and Speakers
The Asus Tuf F15 has a comfortable keyboard that feels nice to type on. The travel of the keys is 1.7mm slightly less than the previous keyboard but the keypress is much more satisfying.
Things are also fairly standard with the layout but we do not like the keycaps used for the W, A, S, D keys. The keycaps are just too bold and tacky and ruin the otherwise minimal look of the laptop. Another low point is that this keyboard only has white backlighting.
This will leave many RGB enthusiasts disappointed but anyways moving onto the trackpad. The trackpad here is well implemented. It is large, has a smooth surface, and tracks accurately.
The speakers on the other hand suffer from mediocrity like most other gaming laptops. We are yet to find a gaming laptop in this price range that offers quality speakers. You know the drill by now, just use headphones for gaming instead of the internal speakers as they are not worth it.
Display, Battery life, and I/O
The Asus TUF Dash 15 comes with a fairly standard 1080p 144hz display. While nothing special, it gets the job done. Having 144hz refresh rate is great because it makes gaming much more smoother.
The picture quality is also adequate. The brightness is on the lower side, but the IPS panel installed on this laptop makes up for it with excellent contrast and viewing angles. The color accuracy is also decent when using the laptop in a dim environment – however, as you move outdoors the colors wash out because of the low brightness.
The advantage of this display is that you get a fantastic battery life on this laptop. The Asus Tuf F15 has a 71Wh battery which is surprisingly large for a laptop with such a minimal form factor.
With the new 12th generation Intel processor at the helm this laptop provides a battery backup for 8-9 hours while watching Netflix and browsing the web. This 9-hour figure plummets to 4 hours when doing heavy tasks and continuous gaming on the laptop will kill the battery in just over 2 hours.
Talking about the I/O the port selection here is pretty decent. This laptop includes support for the latest thunderbolt 4 connection. Other ports here include a full-size Ethernet jack, 3x USB-A ports, HDMI, and a 3.5mm combo Audio/Mic jack.
Gaming Performance and Thermals
The Asus Tuf Dash 15 comes with the latest 12th generation i7-12650H. This CPU has 10 cores and 16 threads, making it the CPU with the highest core count on this list.
As a result, the Asus Tuf Dash 15 excels when it comes to performance. Not only can this laptop be used for gaming, but it is also ideal for other heavy tasks like AutoCAD, streaming, rendering, compiling, etc.
The high performance Intel I7 12650H needs a fast GPU – that is exactly it gets in the form of the Nvidia RTX 3050 Ti. The Nvidia RTX 3050 Ti is the best GPU you can buy for 1080p gaming.
With a 10 core Intel I7 12650H and an Nvidia RTX 3050 Ti at the helm, this laptop can play any game you want. I tested it with a diversified list of games and it played all of them with ease. The average frame rate I got out of this laptop when gaming is as follows:
FPS in Games
​​67 FPS in Red Dead Redemption
83 FPS in Cod WarZone
98 FPS in GTA 5
110 FPS in Forza Horizon 5
160 FPS in Valorant.
The high FPS makes the Asus TUF Dash 15 the performance king, because it provides more FPS than other gaming laptops on this list.
The benefit of having the Intel 12th CPU is not only the performance advantage you get with it, but also the access to DDR5 RAM. DDR5 RAM is the newer technology and compared to DDR4 RAM it is much faster. This laptop comes with 16GB DDR5 RAM, making it better than other laptops.
With such good performance, you will want to download a lot of games on this laptop. However, that will not be possible because the 512GB NVMe M.2 SSD will run out of space pretty quickly – which is disappointing.
Luckily, this laptop does offer a vacant M.2 slot for installing SSD, which I reckon you should commit to sooner rather than later. The low storage space is the only negative of this laptop.
Conclusion:
The Asus Tuf Dash 15 is simple and purposeful. The laptop does not include any fancy stuff, but despite that manages to be an excellent gaming laptop for daily use. This laptop has the highest core count out of any laptop under $1200. Hence if you want more out of your gaming laptop, and don't want to restrict it for just gaming use – the Asus TUF Dash 15 is a great option.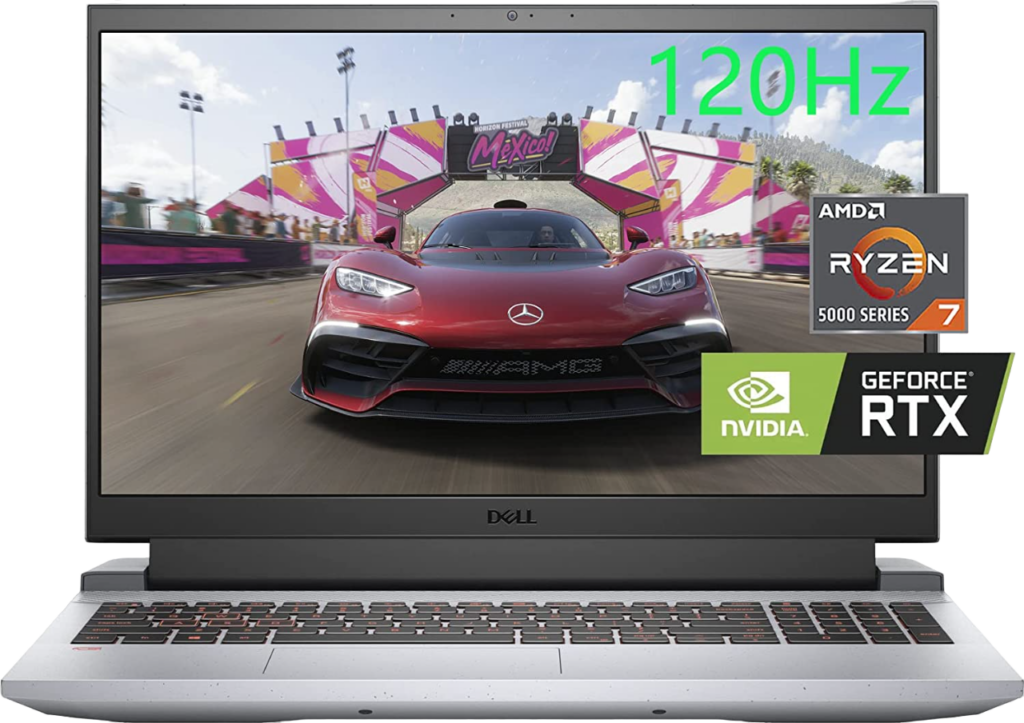 Shop on Amazon
6. Dell G15 – Best Budget gaming laptop
PROS
CONS
The Dell G15 is a solid contender for a good gaming laptop. This laptop has decent specs, which results in good gaming performance. The sleek body of this laptop makes it a great daily carry machine. If you are fine with the subpar build quality of this laptop – there is not much else wrong with it.
Design and Build Quality
The Dell G15 has a tacky and cool design which makes it unique compared to other laptops in the sub $1000 price range. Despite the sub $1000 this laptop competes with $1200 gaming laptops quite easily.
In the center of the lid, you get a simple DELL logo along with two sharp lines that divide this top into three sections. Besides that, there is nothing more interesting about the design of this machine.
One thing we have to highlight though is that this laptop follows in the footsteps of the Alienware series of laptops in terms of hinge design. It also has a centrally latched hinge, which gives it the floating screen design.
This unfortunately does not go well with the plastic chassis of this laptop and results in a lot of screen wobble. The subpar build quality is a given considering that the laptop comes at a bargain price when compared with other laptops. Overall, when gaming you are not held back by the build quality, but it is something to consider for everyday use.
Keyboard, Trackpad, and Speakers
The keyboard of the Dell G15 is a little different from the other traditional gaming laptops. The keys here are a little shallow to press and provide a clicky feeling. Although the keyboard is a subjective matter, we feel like that long gaming session on this keyboard can be a little tiring.
Typing aside, for Aesthetic, the keyboard features 4 zone RGB lighting that can be customized through the Dell software. Below the keyboard, you will find a massive trackpad. Big size means that there is a lot more surface area to play with, but we felt that the trackpad was not the smoothest. That doesn't have any major impact on the use of the trackpad,
Display, Battery Life and I/O
The display of the Dell G15 has bright and punchy colors. Due to the floating screen design the colors pop, which makes viewing content on this screen a pleasure.
You also get 120Hz refresh rate which is great for gaming. It makes fast moving games smooth and fluid. Overall, it would rate the Dell G15 display as very good.
The model we are looking at comes with a 51W battery. The laptop lasts for 6-7 hours, however, you can also squeeze more battery life by reducing the brightness of the display.
In terms of ports and connectivity, this laptop has pretty much got you covered in every aspect except for the thunderbolt port. Thunderbolt port is not here for obvious reasons as it still is Intel's sole property.
To compensate for the thunderbolt port Dell has given you plenty of display connections like HDMI, Mini DisplayPort, and USB-C. The other ports include a full-size SD-Card slot, ethernet jack, 3x USB-A ports, 3.5mm combo Audio/Mic jack, barrel-style power port, and a Kensington lock.
Gaming Performance and Thermals
Despite the low price, Dell G15 comes with impressive specs. It can hang with more expensive laptops, which is the best compliment a laptop can get for its performance.
At the heart of the laptop is the Ryzen 5800H. This 8 core 16 thread CPU has class-leading performance. Despite being very powerful the CPU remains quite efficient as well.
For the GPU, this laptop employs the duties of the Nvidia RTX 3050 Ti. With the Nvidia RTX 3050 Ti, expect the best of performance. I was able to play games on this laptop fairly well, at the following average FPS.
FPS in Games
60 FPS in Red Dead Redemption
67 FPS in CoD WarZone
81 FPS in GTA 5
87 FPS in Forza Horizon 5
145 FPS in Valorant
As for the RAM this laptop comes with 32 GB RAM capacity. It also has a 1TB SSD, hence making it a great everyday laptop for multitasking and storing a lot of files and games.
Conclusion:
The Dell G15 is a great budget laptop that performs exceptionally well. The FPS figures of this laptop are comparable to more expensive offerings, despite it costing under $1000. The laptop also has a unique and eye-catching design. Therefore, if you are in the market for a budget gaming laptop, the Dell G15 is your best bet.
Related Guides
Buyer's Guide
This is the section where this article will guide you on how you can make a more informed decision by helping you evaluate your buying process.
Providing you with just the reviews of the top 5 laptops for gaming is not enough because that doesn't help propel our cause of finding the best laptop for our needs. This is because laptops are unique and different from one another. Each laptop has its own trait that it provides to its users.
Similarly, as individual gamers, we also have different preferences, and our needs may differ. We all measure a gaming laptop not on the same ground because everyone uses his own laptop differently.
Do you see the connection I am trying to build here? To get the best laptop, you need to get the laptop that (1) resonates with your usage and (2) provides you features that you care about. Don't fall for the idea of x laptop being better than y laptop because it has superior specifications. There is a lot more that counts than just raw specification and performance.
With that being said, the following are some of the aspects of gaming laptops you need to know before making your purchase.
Graphics Card
For gaming, the graphics card is the main component that has great sway on where your gaming performance can go. This is because your graphic card's performance directly translates to how good a game will run on your laptop.
To get the best experience, you should look at laptops with at least an Nvidia GTX 1650ti graphics card. This graphics card is the least you can get in a $1200 laptop.
Ideally, at this budget for maximum performance, you want an Nvidia RTX 3060 graphics card on your laptop. This laptop is quite powerful, can play all the latest games, and will stand the test of time.
Processor

The processor, also referred to as the computer's brain executes all the commands and actions on a laptop. If your processor is not good enough to cope with all the actions that are happening on your laptop, then your laptop will feel in a bogged-down state.
To avoid this, you should ideally get a 6-core 12-thread processor. Something like the Intel i7 10750H or the AMD Ryzen 4800H should fit the bill quite well; therefore, look for laptops with these processors.
Cooling and Thermals
This is rather a very important aspect, especially these days when there is so much heat being produced by both the graphics card and the processor. The dilemma of the fact is many looks overlook this aspect and then after the laptop instantly regret their purchase.
Now you don't want that do you? Hence always buy gaming laptops that have a sound cooling system. If a gaming laptop is overheating, that affects not only its performance but also the longevity of the parts inside the laptop in the long run.
RAM and Storage
It goes without saying that you should always have sufficient RAM and storage capacity to keep your PC running smoothly.
Ideally, you are looking at a 16GB capacity for the RAM. If you have a 16GB capacity, you easily multitask and run demanding applications without even putting a slight dent in the swiftness of your laptop.
As for the storage, that is rather a personal affair because we all tend to have our own download habits. For a safe bet, you have at least 256GB storage capacity with the ideal target being 512GB.
Though always make sure that you buy a laptop that has an SSD. You definitely don't want to be stuck with a hard drive in this day and age because those are just slow and outdated.
Display
The screen is one of the aspects you will be interacting with the most when using your laptop; hence it needs to be good. Otherwise, let me tell you, you are in it for a bad time.
Anyhow for gaming, ideally, a screen needs to have a 144Hz refresh rate with fast response times. This will make your gaming smoother and immersive hence enhancing your enjoyment when playing the game.
Besides that, other metrics of the screen – color accuracy, contrast, and brightness, should also be well-calibrated. After all, no one likes looking at a screen that displays dull pictures.
Build Quality
A laptop is a machine that gets tossed around quite a lot; hence you want a machine with solid build quality. This is pretty self-explanatory; if your laptop is not strong enough, it won't be able to cope with the daily wear and tear and eventually break down sooner than expected.
To ensure you get a laptop with a solid build quality, always buy laptops constructed out of metal rather than plastic because metal is much tougher than plastic and won't break easily.
Design and Aesthetics
These days the gaming industry is all about the aesthetic and the design. Therefore, today's gaming laptops come with design features that make the laptop unique and different from other offerings on the market.
When buying laptops, evaluate which sort of design feature that you are most attracted to. For example, most gamers prefer RGB lighting. Also, don't buy a laptop with designs that will get outdated in a year or two.
Conclusion
Acer Predator Helios 300 is not only slim but also very powerful. This laptop combines the perfect amount of power and portability. To achieve this some sacrifices had to be made, the most significant being the inclusion of a small battery to reduce the bulk of the laptop. Despite all these sacrifices, this laptop is still a great overall package and one that you should consider as your next laptop.